The Historical Residence
The Palazzo Pretorio of Civitella, which we call Palazzo Tarlati because of its most important inhabitant Guido Tarlati, belongs to our family for the past 70 years and after the recent restoration we have decided to create from it a very particular Historical Residence. We have realized four independently and thematically unique, refined and well appointed
bedrooms furnished with antiques. The bathrooms boast a bath or shower equipped with hydro massage, and the vanity baskets are filled with biological products which will sooth body and soul. The antique furniture, the Persian carpets, the paintings, all complement the personal touch clearly present throughout the Palazzo, introduced by the lady of the house, Francesca. On the ground floor is the big kitchen with an open fire place, ideal for the table d'hôte meals, an
d the comfortable living room with the access to the Palazzo's garden. Sala Tarlati, located on the first floor, hosts the most beautiful fresco in the Palazzo, and it is this ambiance laden room which is the right place for high level meetings. The garden of the Palazzo warrants a more particular description. It is surrounded by a limestone wall and paved in natural stone with precious plants in its boarders, presided by a 180-year old camellia. Safely embedded in the centre of the garden is the old rainwater well with in its immediate proximity the stone ta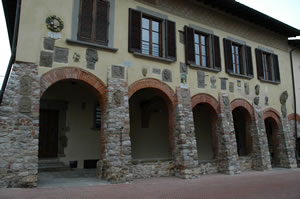 ble made out of one large block of stone. Though not a big garden it gives you the relaxing effect of harmonious disharmonies of the various flora, each of which wanting to catch your attention with their foliages, colour splendours and perfumes. To find a true oasis of tranquillity, to want an exclusive vacation, to hold a small but high-level business meeting, to need a venue for very high representation purposes, to hold a private ceremony in the intimacy of a historic setting, to go to for your honeymoon, to find your way back to yourself(-ves), or just a need for absolute rest: Palazzo Tarlati awaits your most valued presence.
Our Charme
Our charm isn't luxury.
We have always preferred being rather than appearing.
The charm of Palazzo Tarlati is the subtle energy that enriches our guests and makes our vacancy unique.
The emotion of being in a Historic Abode in the heart of Tuscany.
The appeal of small things, of the precision of each detail, of the 7 star service.
All the senses are satisfied with grace and loveliness for an experience unique in it's kind.
The most important charm is that of our four girls, Angelica, Clarissa, Florentia and Desideria.
Every time they will talk to you about Hotel de Charm, close your eyes and smile, Palazzo Tarlati is Neverland, but you have discovered it!